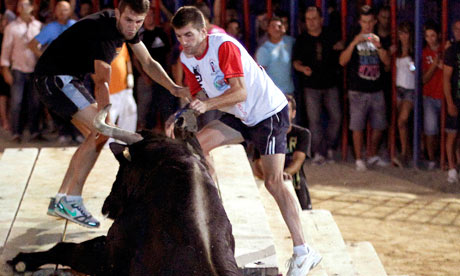 A half-tonne Spanish bull drew crowds of fans to the eastern town of Sueca on Sunday after building up a reputation as the biggest killer in the popular summer game of bull-dodging.
The bull, called Ratón, meaning mouse, was appearing for the first time since goring a man to death in the nearby town of Xátiva on 15 August.
Debate has raged in newspapers over the exact number of people killed by Ratón, who is let loose in bullrings where people are encouraged to jump in and taunt him.
He is known to have gored a 30-year-old man to death in Xátiva, and to have killed a man in Puerto de Sagunto in 2006. Reports that he had killed a third man in 2004, in the village of Benifairó de les Valls, were denied by the mayor.
Bull-dodging is popular in many summer village and town fiestas. In parts of eastern Valencia and Catalonia, bulls sometimes have flaming torches attached to their horns to enrage them further. Unlike in traditional bullfights, however, there is no matador and the animal lives on, getting wiser and more dangerous as he becomes more experienced.
Eleven-year-old Ratón's fame as the deadliest of fiesta bulls has made him one of the most expensive to hire, with prices reaching €15,000 for a single appearance.
The bull was greeted in Sueca by cheering crowds and music from the soundtrack of Sergio Leone's For a Few Dollars More.
Professional bull-dodgers and local amateurs baited the animal and ran in front of him for half an hour. The town hall delegated a group of experienced runners to stop drunks joining in, and police had to bundle off two people, according to the local Levante newspaper.
Bull games at local fiestas claim up to half a dozen lives across Spainevery summer.
"Ratón showed, once more, both exceptional agility and intelligence," Levante reported after noting that the sellout crowd of 2,700 people had witnessed no bloodshed.
But some politicians have called for Ratón to be banned and for stricter control of those who try bull-dodging under the influence of drink or drugs. "Someone must be held responsible if this happens again," said Marina Albiol, an MP for the United Left party in the regional parliament of Valencia. "The only reason the town hall at Sueca has hired this bull is to encourage cruelty and ghoulishness."
The town hall replied that it had hired Ratón because he belonged to a local farmer. "That way the bull can say a final goodbye to its hometown, as he is due to retire soon," a statement said.
The bull's owner, Gregorio de Jesús, wants Ratón to follow the example of Got, a fighting bull who was cloned recently.
The bull is due to appear at two more fiestas this summer.
Bullfights with matadors are to be banned in eastern Catalonia at the end of this year, but bull-dodging will remain legal.
Ratón's re-appearance in Sueca proved a draw for local media, with half a dozen television stations and some 40 radio and newspaper reporters in attendance.
The bull also has his own travelling fans. One of them, Manuel Martin, has Ratón's head tattooed on his right arm. "Now I'm going to have the whole animal tattooed on my leg," he told El País